---
Welcome to the Patient Accounts Control Center where you can check your account and edit your insurance information.
---
Please enter your account# and password below.

Please include the 3 letter prefix with the next 9 numbers.
Example: your account# will look similar to this: ABC000123456.


---
Instructions:
1. Enter your 12 character account# which is located on your statement (see example below). It will be in the format XXX123456789.
2. Enter your 8 digit password which is indicated on your statement
3. Click LOGIN to continue
4. You will be entering a secure and encrypted site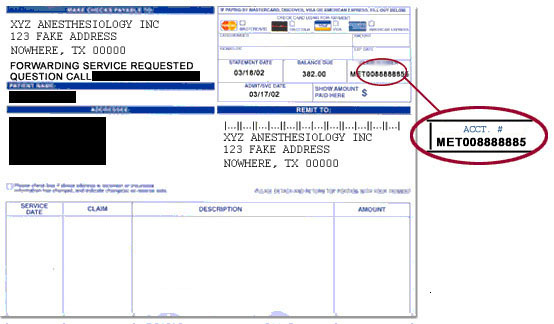 Disclaimer
You will be entering a secure area and acknowledge that your account information will be displayed on your computer screen.
Please note that we recognize our obligation to keep your personal information confidential and private. We are fully compliant with HIPAA regulations (Health Insurance Portability and Accountability Act of 1996).